The Flavor of Chicago
Prepared in small batches and following century-old methods.

If you're from Chicago, then you know Scott Pete®. We've been making sausages with a strong dedication to quality since 1926. Prepared in small batches and following centuries-old methods, our Smoked and Polish Sausages, Deli meats and Chicago-style Hot Dogs are known as the flavor of the Windy City by loyal customers across the nation.
Seasoned by hand with a unique spice blend, you know you are enjoying a true tradition after just one bite. Our commitment to consistent quality is why our customers are so loyal.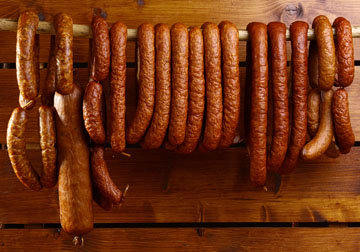 Visit our hometown of Owensboro, Kentucky.
Kentucky Legend was born and bred in the beautiful city of Owensboro, Kentucky. Take a weekend trip to visit the town that started it all!
Looking for something to do in our amazing city or just want to learn more about what Owensboro is all about? Head to https://visitowensboro.com/ to learn more about the lively restaurants, shopping, activities, and more our city has to offer. We can't wait to see you!